Mild Disease
Eye symptoms
Graves' ophthalmopathy is characterized by inflammation of the extraocular muscles, orbital fat and connective tissue. It results in the following symptoms, which can be extremely distressing to the patient:
Most frequent are symptoms due to conjunctival or corneal irritation: burning, photophobia, tearing, pain, and a gritty or sandy sensation.
Protruding eyeballs (known as proptosis and exophthalmos).
Diplopia (double vision) is common.
Limitation of eye movement (due to impairment of eye muscle function).
Periorbital and conjunctival edema (accumulation of fluid beneath the skin around the eyes).
Infiltrative dermopathy (pretibial myxedema).
In severe cases, the optic nerve might be compressed and acuity of vision impaired.
Occasionally loss of vision.
Due to hyperthyroidism
In the absence of Graves' ophthalmopathy, patients might demonstrate other ophthalmic signs due to hyperthyroidism:
Dry eyes (due to loss of corneal moisture).
A sense of irritation, discomfort, or pain in the eyes.
A tingling sensation behind the eyes or the feeling of grit or sand in the eyes.
Excessive tearing that is often made worse by exposure to cold air, wind, or bright lights.
Swelling or redness of the eyes.
Stare
Lid lag (Von Graefe's sign)
Sensitivity to light.
Blurring of vision.
Widened palpebral fissures.
Infrequent blinking.
The appearance of lid retraction.
BEFORE & AFTER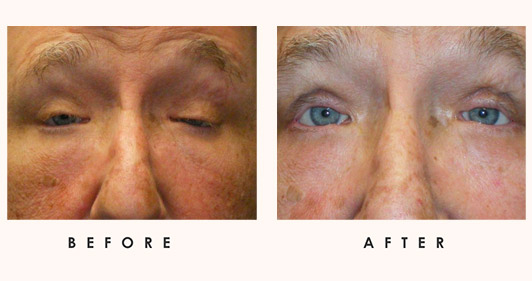 View Photo Gallery